Treyarch's Studio Design Director appears to have gotten himself in a bit of a situation with tweets on skill based matchmaking in Call of Duty.
All of the tweets have since been deleted, but users have captures screenshots of the tweets to showcase.
Vahn quote-RT'd YouTuber Legiqn's video celebrating 7 years of Call of Duty: Black Ops 2 by saying "See, I told you skill based matchmaking wasn't evil. (I am teasing. Connection >, you pub stomping monsters.)"
Without realizing the current questions about Call of Duty: Modern Warfare's matchmaking, Vahn tweeted to Joe Cecot and Ashton Williams that he did not mean to call anyone out and knows that doing cross platform matchmaking is a tricky thing. He said they "slam-dunked" the cross platform system.
He then followed up again saying that "not shots were fired" to Infinity Ward and we can "quote him" that he was not attacking Infinity Ward. He said that IW's matchmaking is "insanely good for cross platform play."
He ended this Twitter discussion on SBMM by saying Infinity Ward's matchmaking is "connection based" and they have "fantastic matchmaking." He said he's "taking notes" on how Infinity Ward does it for the future Treyarch projects.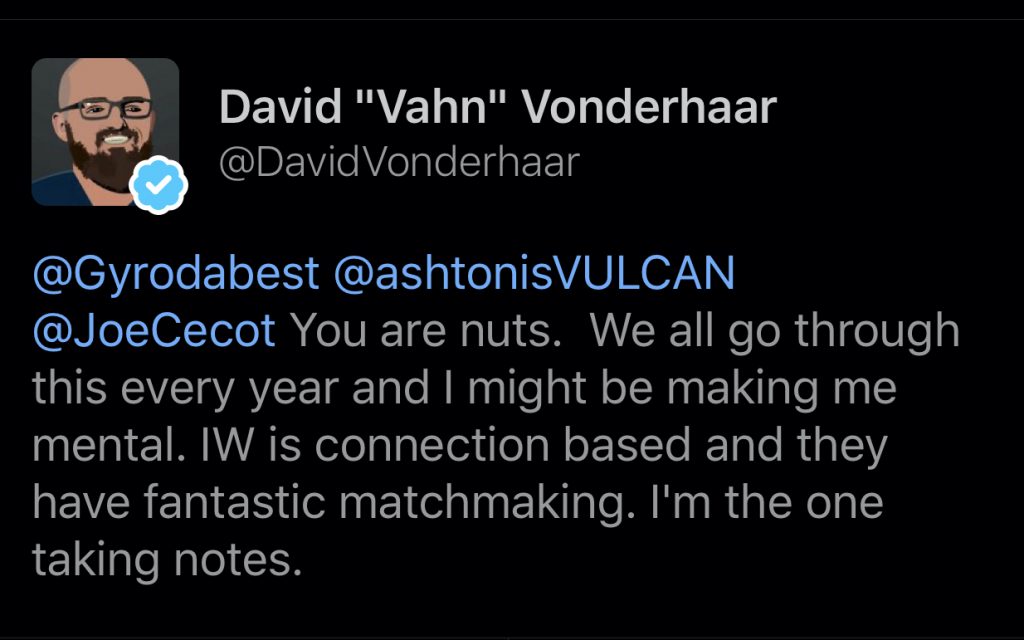 All of the above tweets have since been deleted from Vonderhaar's profile. Infinity Ward has so far remained silent about the conversation of SBMM being in Call of Duty: Modern Warfare. There has been no official confirmation from the studio that SBMM is even in the game, but fans have claimed that their own testing shows SBMM is "ruining" their experience.
SOURCE: Reddit
The post Vonderhaar jokes about skill based matchmaking, says 'IW is connection based' appeared first on Charlie INTEL.
Source: CharlieIntel.com
————-
Order Call of Duty: Modern Warfare
Amazon – PS4 – Xbox One
Gamestop
Bestbuy – PS4 – Xbox One
Ebay
Sony
Microsoft
Battle.net
More Purchase Options at CallofDuty.com