The first post launch content drop for Call of Duty: Modern Warfare has arrived!
With the release of patch update 1.07 for Call of Duty: Modern Warfare across platforms (patch notes available HERE), Infinity Ward has released two new maps for Multiplayer in Call of Duty: Modern Warfare.
The new standard MP map is Shoot House, which is a new 6v6 map that Infinity Ward describes as 'three-lane' with 'close quarter combat.' The second map is a new Ground War map called Krovnik Farmland.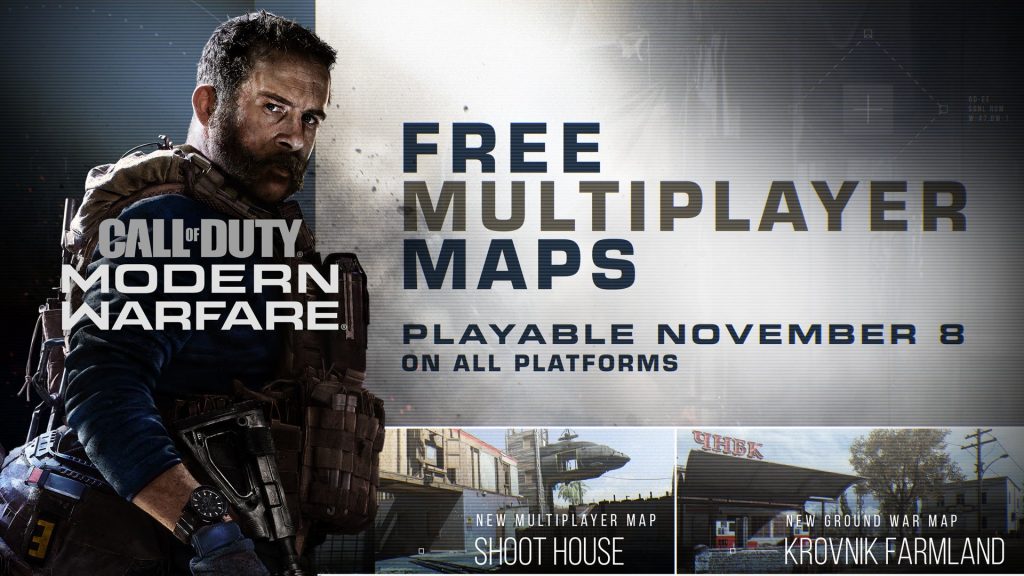 Both of these new maps are FREE for everyone – as the studio has removed the season pass, allowing all players to get all the post launch maps for free. This keeps the community together.
NEW FREE MAPS!
We've added Krovnik Farmland to Ground War and Shoot House to Multiplayer!
NEW PLAYLISTS AND A NEW MODE!
Going live on Friday…
Hardpoint is now in rotation!
Shoot House 24/7! This includes a mixture of Team Deathmatch, Domination, Kill Confirmed, and Headquarters
The new maps are also available now on PS4, Xbox One, and PC – a change to previous years with the PlayStation deal. This will allow cross play matchmaking to work with new post launch content.
The post New maps available now in Call of Duty: Modern Warfare appeared first on Charlie INTEL.
Source: CharlieIntel.com
————-
Order Call of Duty: Modern Warfare
Amazon – PS4 – Xbox One
Gamestop
Bestbuy – PS4 – Xbox One
Ebay
Sony
Microsoft
Battle.net
More Purchase Options at CallofDuty.com