Activision and Infinity Ward have announced Modern Warfare and Warzone Season 5 Reloaded.
Season 5 Reloaded officially begins on Monday, August 24 at 11PM PT with a new patch update, followed by the Games of Summer event beginning on August 28.
Season 5 Reloaded features the new Games of Summer event, which begins August 28 and ends on September 7.
It also includes the debut of a new Gunfight map: Verdansk Stadium, new Warzone modes, new LMG, and more coming during Season 5 Reloaded.
There will also be a Gunfight Free Access Tournament weekend starting Friday, August 28 and ending on Wednesday, September 2.
Get the breakdown on what's coming from the Activision Blog:
Season 5 Reloaded Roadmap
The Games of Summer Event (Available August 28 – September 7)
Compete for Glory…And Free Rewards
For the first time in Call of Duty franchise history, community members from around the world – both those who own Modern Warfare and free-to-play Warzone – will be able to represent their country in easy-to-play, hard-to-master, single-player Trials of skill. By earning medals in each Trial, competitors will prove which country's Tier One Operators are truly the best in the world.
Within Games of Summer, there are five Trials. These miniature experiences are similar to those introduced at Modern Warfare'slaunch and in post-launch Season updates.
Trials will be available for Modern Warfare and free-to-play Warzone players, starting on August 28 at 10 a.m. PT. Players will have unlimited entries, meaning you can keep playing them to set your best time or score and go for Gold.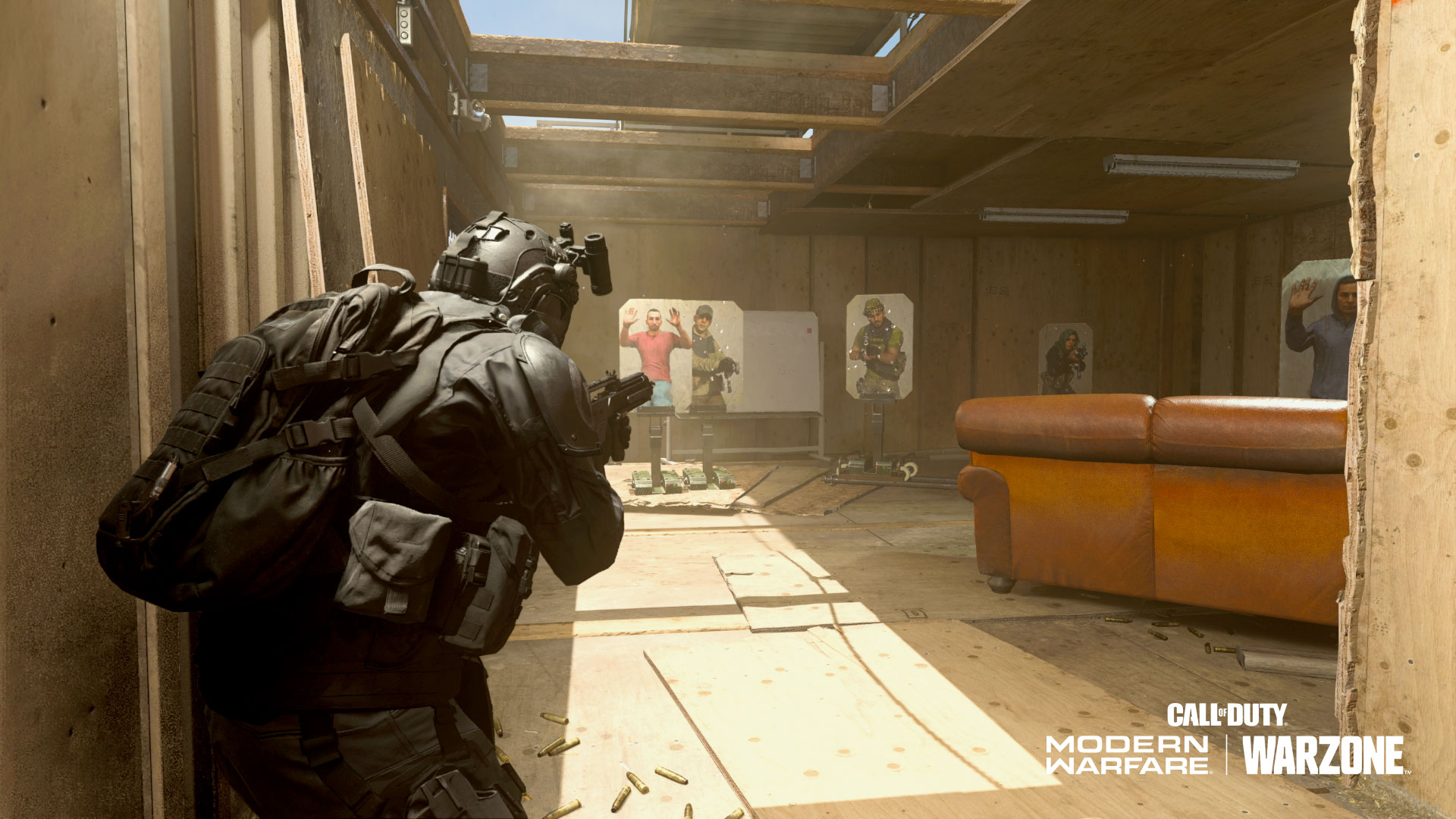 A Pentathlon of Trials
Gold Medal tip: some Trials shave seconds off your final time for high accuracy, while others add points based on how quickly waves are completed.
Trial One: Gun Course (Starts August 28) on Custom Gun Course Map

Description: Make your way through the course as fast as possible while clearing all enemy targets and avoiding civilian casualties.
Medal Times: 01:30:00 (Bronze) / 01:00:00 (Silver) / 00:40:00 (Gold)
Loadout: Assorted Weapons
Trial Two: Price's Alley (Starts August 29) on Custom Price's Alley Map

Description: Eliminate an endless series of enemy targets while avoiding civilian targets to maintain the combo for as long as possible.
Medal Scores: 4,000 (Bronze) / 5,000 (Silver) / 6,000 (Gold)
Loadout: Renetti (Handgun)
Trial Three: Risky Parkour (Starts August 30) on Livestock

Description: Move through each checkpoint and finish the course as quickly as possible. Beware the heavy toxic gas on low ground.
Medal Times: 0:55:00 (Bronze) / 0:47:00 (Silver) / 0:40:00 (Gold)
Loadout: Combat Knife
Trial Four: Shooting Range (Starts August 31) on King

Description: Locate and shoot all targets in the area as quickly as possible while conserving ammunition.
Medal Times: 0:50:00 (Bronze) / 0:40:00 (Silver) / 0:30:00 (Gold)
Loadout: Assorted Weapons
Trial Five: Marksman Challenge Starts (September 1) on Custom Marksman Challenge Map

Description: Engage waves of long-distance targets and beat the clock. Missed shots burn time.
Medal Times: 3,400 (Bronze) / 3,900 (Silver) / 4,400 (Gold)
Loadout: HDR (Sniper Rifle)
To the Victor Goes the Spoils for Self and Country
For participating in Games of Summer, players will receive rewards based on performance within each Trial. These rewards are stackable – if a competitor achieves gold on the first try, they will receive all three rewards for their epic (or in some cases, legendary) achievement.
Each Trial medal comes alongside rewards (rewards can only be received once) and all players who participate earn the 'Games of Summer Cup' weapon charm. Trials rewards include but are not limited to vehicle skins, XP tokens, vehicle horns, calling cards, and Legendary weapon blueprints.
Earn gold in each Trial and receive the Legendary Assault Rifle Juliet Blueprint, a weapon truly built for chasing first place on any leaderboard. Built for pure precision with a clear, non-magnified sight picture, consider this a "gold standard" among a competitive pool of this weapon platform's existing blueprints.
On top of these rewards, individual medals will give points to a player's respective country, determined by their account's origin. Each country's points will be updated daily, and the top 15 countries will be visible on in-game leaderboards. Total scoring is weighted by country participants, so any nation can rise to the top.
Earn medals and rack up your points for your country, then at the culmination of Games of Summer, a country will be crowned champion. Will there be an underdog that claims glory for a well-contested Trial at the 11th hour? Or will one country hold a commanding lead throughout the Games?
New Functional Weapon
The FiNN LMG – (Available at Season Five Reloaded Launch)
The heaviest primary weapon class in the game has a new challenger, the FiNN LMG and it will punch well above its weight against many of the existing LMGs.
This new LMG can be earned by completing an in-game challenge or a blueprint variant can be acquired by purchasing the "Mainframe" bundle.
An agile, mobile, and hostile tank of an LMG, the FiNN's ultra-light and open-bolt design is uniquely paired with advanced recoil controls. This all adds up to a weapon with exceptional full-auto accuracy while still being lightweight, allowing for a unique playstyle that further blurs the line between assault rifle and LMG.
Warzone Content
New Game Mode: King Slayer (Available During Season Five Reloaded)
King Slayer is large-scale Team Deathmatch on Battle Royale where teams fight to earn points by defeating hostile players. However, the circle doesn't collapse, rather it moves around the map for an agile battle on the go. The top five team's top scoring player will be marked as a 'king' on the Tac-Map. Eliminate kings to get additional points and be awarded a free Killstreak.
Gunfight – Tournament, New Map Stadium (Available with Games of Summer)
What's Games of Summer without a tournament? Gunfight Tournament returns as a head-to-head test of gunskill, map knowledge, and coordination, and a proper tournament deserves a Stadium.
The pitch level of the larger Stadium has become available for Gunfight. It's a much smaller play space in the Gunfight mode, so remember to use those tents, crates, and other obstacles for cover, especially if an Overtime flag is on the line.
Gunfight tournament winners will be rewarded with XP, high tier cosmetic rewards, and bragging rights as victors of the summer tournament.
Free Access Gunfight Tournament
All players can join in the tournament during the Free Access Weekend from August 28 to September 2 featuring the Gunfight Tournament playlist.
If you have a friend that hasn't tried the full version of Modern Warfare or are a Warzone player looking to hone your skills and unlock prestigious Gunfight Tournament rewards, then enter the tournament and go for gold.
Modern Warfare Content: Ground War Gets Reinforced (Available During Season Five Reloaded)
Owners of the full version of Modern Warfare, can experience a new way to play Ground War.
Reinforcements Inbound – Ground War Reinforce Arrives
In this Ground War mode variant, three flags are positioned towards the center of the map, in a similar manner to Domination mode.
If you or a teammate are downed, you enter Spectator mode instead of respawning, rejoining the battle only after a new flag is secured by your teammates. Claim all three flags and you automatically win the round. Win enough rounds, and your massive platoon will all earn the victory.
A Reloaded Store of Content (Available During Season Five Reloaded)
New Operator – Morte – Heads the Roundup of New Bundles
A spaghetti western-loving gunslinger will come to town, ready to lay down the law for the Coalition.
His name is Morte, and he's Warcom's newest recruit found in his own Store Bundle arriving later this Season.
Sergio "Morte" Sulla hails from Italy, is a skilled tracker who loves the Old West and strongly adheres to his own rules regarding right and wrong. Served with the legendary Col Moschin paratrooper regiment in Italy before being selected to join Warcom.
Other bundles available in Store during Season Five include the "Mainframe", featuring a Legendary blueprint of the all-new Light Machine Gun Golf as well as the "Game Winner", a sporty bundle featuring Coalition SAS Operator Kyle "Gaz" Garrick in a Legendary skin which suits him for some games on the Stadium pitch.
SOURCE: Activision Blog
The post Modern Warfare & Warzone Season 5 Reloaded: Games of Summer & More appeared first on Charlie INTEL.
Source: CharlieIntel.com
————-
Grab Your Copy of Call of Duty: Modern Warfare at one of the links below
Amazon – PS4 – Xbox One
Gamestop
Bestbuy – PS4 – Xbox One
Ebay
Sony
Microsoft
Battle.net
More Purchase Options at CallofDuty.com